MyAlcon | United States
This page is available in English. Select below for other countries.
COMING SOON
Americas
     Brazil
     Mexico
     Colombia
     Chile
     Argentina
     Ecuador
     Peru
     Uruguay
 
Europe / Middle East / Africa
     Russia
Asia Pacific
     South Korea
     China
     Hong Kong
     Singapore
__PRESENT__PRESENT__PRESENT__PRESENT__PRESENT

THIS IS UTILITY.
THIS IS THE VEKTOR™ ARTICULATING ILLUMINATED LASER PROBE.
Expand your surgical range.
ENGINEERED FOR VERSATILITY
Control and articulation.
The VEKTOR™ Articulating Illuminated Laser Probe:
Allows surgeon flexibility with adjustable articulation1
Enables unassisted scleral depression1
Expands surgical range to help avoid the lens when reaching to the far side of the periphery1
Integrates with the CONSTELLATION® Vision System
Related Products
Experience the complete Alcon vitreoretinal suite.
SEE MORE AND REACH FARTHER
The VEKTOR™ Articulating Illuminated Laser Probe provides more functionality and control for photocoagulation in the retinal periphery,2 while illumination assists surgical visualization.1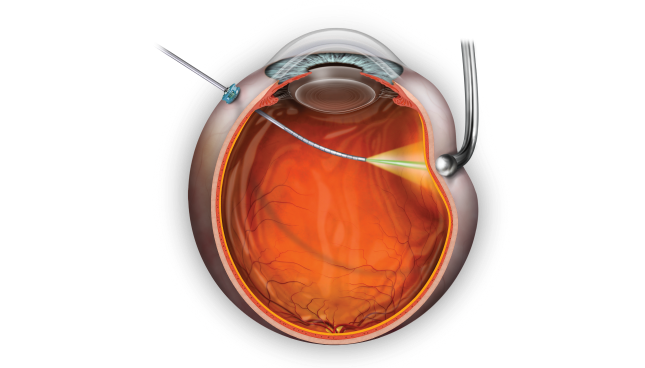 HOW TO ORDER
To learn more about the VEKTOR™ Articulating Illuminated Laser Probe from Alcon, contact your local sales representative.

PUREPOINT® LASER IMPORTANT PRODUCT INFORMATION
Caution: Federal (USA) law restricts this device to sale by, or on the order of, a physician. 
Indications for Use: The PUREPOINT® Laser is indicated for use in photocoagulation of both anterior and posterior segments of the eye including: 
Retinal photocoagulation, panretinal photocoagulation and intravitreal endophotocoagulation of vascular and structural abnormalities of the retina and choroid including: Proliferative and nonproliferative retinopathy (including diabetic); choroidal neovascularization secondary to age-related macular degeneration; retinal tears and detachments; macular edema, retinopathy of prematurity; choroidal neovascularization; leaking microaneurysms. 
Iridotomy/Iridectomy for treatment of chronic/primary open angle glaucoma, acute angle closure glaucoma and refractory glaucoma. 
Trabeculoplasty for treatment of chronic/primary open angle glaucoma and refractory glaucoma.
And other laser treatments including: internal sclerostomy; lattice degeneration; central and branch retinal vein occlusion; suturelysis; vascular and pigment skin lesions. 
Contraindications: Patients with a condition that prevents visualization of target tissue (cloudy cornea, or extreme haze of the aqueous humor of the anterior chamber of vitreous humor) are poor candidates for LIO delivered laser treatments. 
Warnings and Precautions: 
The disposables used in conjunction with ALCON® instrument products constitute a complete surgical system. Use of disposables and handpieces other than those manufactured by Alcon may affect system performance and create potential hazards. 
Attach only Alcon supplied consumables to console and cassette luer fittings. Do not connect consumables to the patient's intravenous connections. 
Mismatch of consumable components and use of settings not specifically adjusted for a particular combination of consumable components may create a patient hazard. 
Back scattered radiation is of low intensity and is not harmful when viewed through a protective filter. All personnel in the treatment room must wear protective eyewear, OD4 or above at 532nm, when the system is in Standby/Ready mode as well as during treatment. The doctor protection filter is an OD greater than 4 at 532nm. 
ATTENTION: Reference the Directions for Use for a complete listing of indications, warnings, and precautions.
Alcon data on file, 2017. 
Alcon data on file, 2011.
©2021 Alcon Inc. 12/21 US-PVL-2100003