THIS IS CONTROL.
THIS IS THE CONSTELLATION® VISION SYSTEM.
 
The gold standard in vitreoretinal surgery platforms.
A HISTORY OF INNOVATION

A future that continues to redefine ophthalmic excellence. 
Take command of vitreoretinal surgery
With the CONSTELLATION® Vision System, you can:
Adjust flow independently of vacuum and cut rate with a surgeon-regulated duty cycle1 
Maintain a stable IOP with automatic and constant infusion-pressure monitoring2
Effortlessly change voice-confirmed settings with a multifunctional footswitch control3
Integrate your OR

The CONSTELLATION® Vision System continuously evolves to power the newest vitreoretinal technologies from Alcon.
DELIVERING VITREORETINAL TECHNOLOGIES THAT WILL SHAPE TOMORROW
The constellation® Vision System defines ophthalmic innovation.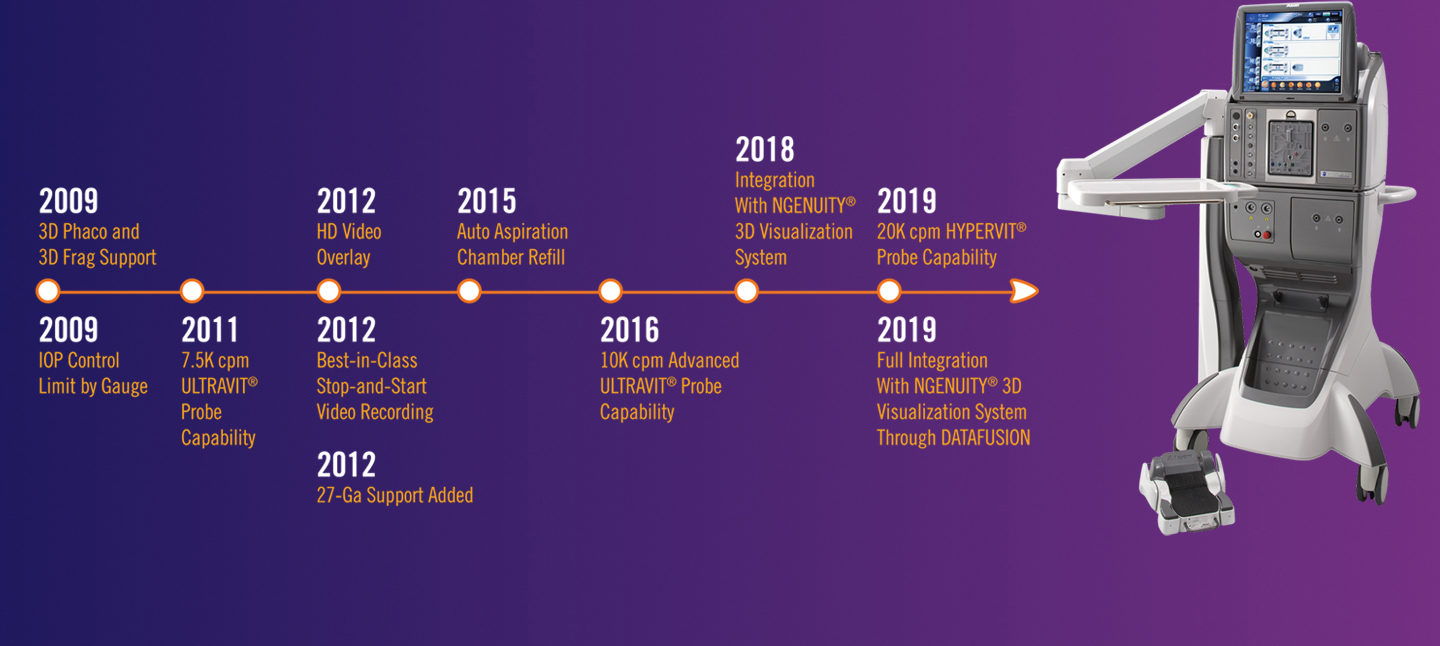 EXPERIENCE UNPRECEDENTED CONTROL AND PERFORMANCE
Integrates With The PUREPOINT® Laser
Features include voice confirmation, the multifunction footswitch, EnGauge® RFID, and dual laser attachment ports
Designed for surgeon control.
The CONSTELLATION® Vision System powers the HYPERVIT® Dual Blade Vitrectomy Probe and Advanced ULTRAVIT® Beveled High Speed Probe with unique dual-pneumatic technology.
Designed for stability.
With real-time infusion adjustments and Alcon's proprietary Non-Invasive Flow Sensor technology, the CONSTELLATION® Vision System is designed to add a new measure of stability to vitrectomy procedures. 
Designed for efficiency.
V-LOCITY® Efficiency Components—such as the 1-button Push Prime to speed up the priming sequence, an articulating arm tray for sterile setup, and EnGauge® RFID to automatically recognize each device you connect—help to increase productivity.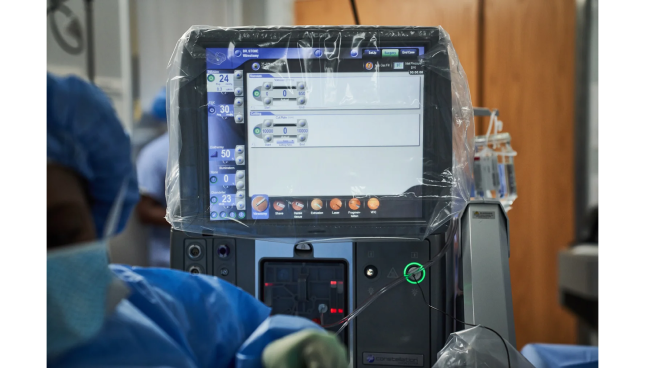 MIVS Important Product Information
Caution: Federal law restricts this device to sale by, or on the order of, a physician.
Indications for Use: The CONSTELLATION® Vision System is an ophthalmic microsurgical system that is indicated for both anterior segment (i.e., phacoemulsification and removal of cataracts) and posterior segment (i.e., vitreoretinal) ophthalmic surgery.
The ULTRAVIT® Vitrectomy Probe is indicated for vitreous cutting and aspiration, membrane cutting and aspiration, dissection of tissue and lens removal. The valved entry system is indicated for scleral incision, canulae for posterior instrument access and venting of valved cannulae. The infusion cannula is indicated for posterior segment infusion of liquid or gas.
Warnings and Precautions:  
The infusion cannula is contraindicated for use of oil infusion.
Attach only Alcon supplied products to console and cassette luer fittings. Improper usage or assembly could result in a potentially hazardous condition for the patient. Mismatch of surgical components and use of settings not specifically adjusted for a particular combination of surgical components may affect system performance and create a patient hazard. Do not connect surgical components to the patient's intravenous connections.
Each surgical equipment/component combination may require specific surgical setting adjustments. Ensure that appropriate system settings are used with each product combination. Prior to initial use, contact your Alcon sales representative for in-service information.
Care should be taken when inserting sharp instruments through the valve of the Valved Trocar Cannula. Cutting instrument such as vitreous cutters should not be actuated during insertion or removal to avoid cutting the valve membrane. Use the Valved Cannula Vent to vent fluids or gases as needed during injection of viscous oils or heavy liquids.
Visually confirm that adequate air and liquid infusion flow occurs prior to attachment of infusion cannula to the eye.
Ensure proper placement of trocar cannulas to prevent sub-retinal infusion.
Leaking sclerotomies may lead to post operative hypotony.
Vitreous traction has been known to create retinal tears and retinal detachments.
Minimize light intensity and duration of exposure to the retina to reduce the risk of retinal photic injury.
ATTENTION: Please refer to the CONSTELLATION® Vision System Operators Manual for a complete listing of indications, warnings and precautions.
Abulon Djk. Vitreous Flow Rates Through Dual Pneumatic Cutters: Effects Of Duty Cycle And Cut Rate. Clin Ophthalmol. 2015;9:253–261. Doi:10.2147/Opth.S71387. 
Riemann C, Zhou J, Buboltz Dc. Vitreous Cutter Velocities: Dual Pneumatic Drive Vs. Single Pneumatic Drive With Spring Return Probes. Poster Presented At: 2011 Annual Meeting Of The Association For Research In Vision And Ophthalmology; May 5, 2011; Fort Lauderdale, Fl. 
Houston Sks Iii. Get Behind The Wheel Of The Constellation. Retina Today. 2015;10(6):77–80. Http://Www.Retinatoday.Com/Pdfs/0915rt_cover_Combo.Pdf. Accessed March 21, 2019. 
Auld Jr, Farley Mh, Inventors; Alcon Research Ltd., Assignee. Multi-Fiber Flexible Surgical Probe. Us Patent Ca 2787024 A1. August 25, 2011.
Alcon Data On File, 2018.
Alcon Data On File, 2018.
©2021 Alcon Inc. 12/21 US-CON-2100031