MyAlcon | Country
This page is available in English. Select below for other countries.
COMING SOON
Americas
     Brazil
     Mexico
     Colombia
     Chile
     Argentina
     Ecuador
     Peru
     Uruguay
 
Europe / Middle East / Africa
     Russia
Asia Pacific
     South Korea
     China
     Hong Kong
     Singapore
__PRESENT__PRESENT__PRESENT__PRESENT__PRESENT
SEE THINGS DIFFERENTLY
EVERYWHERE YOU LOOK.

The latest advancements in lens technology enable the Clareon® PanOptix® IOL to deliver a full range of vision and exceptional clarity.1,2*
20/20 NEAR, INTERMEDIATE, AND DISTANCE VISION IS NOW POSSIBLE3†‡


ENLIGHTEN® OPTICAL TECHNOLOGY
The Clareon® PanOptix® IOL is an advanced trifocal IOL equipped with ENLIGHTEN® Optical Technology—a proprietary design that optimizes intermediate vision without compromising exceptional near and distance vision.4,5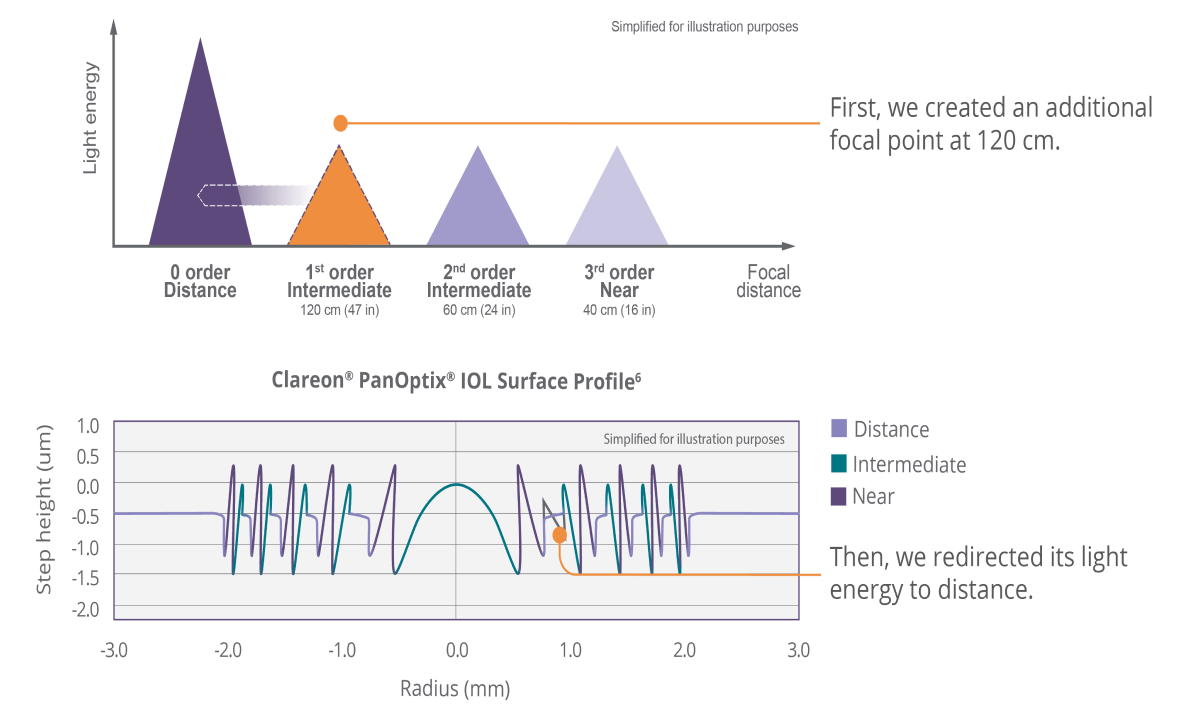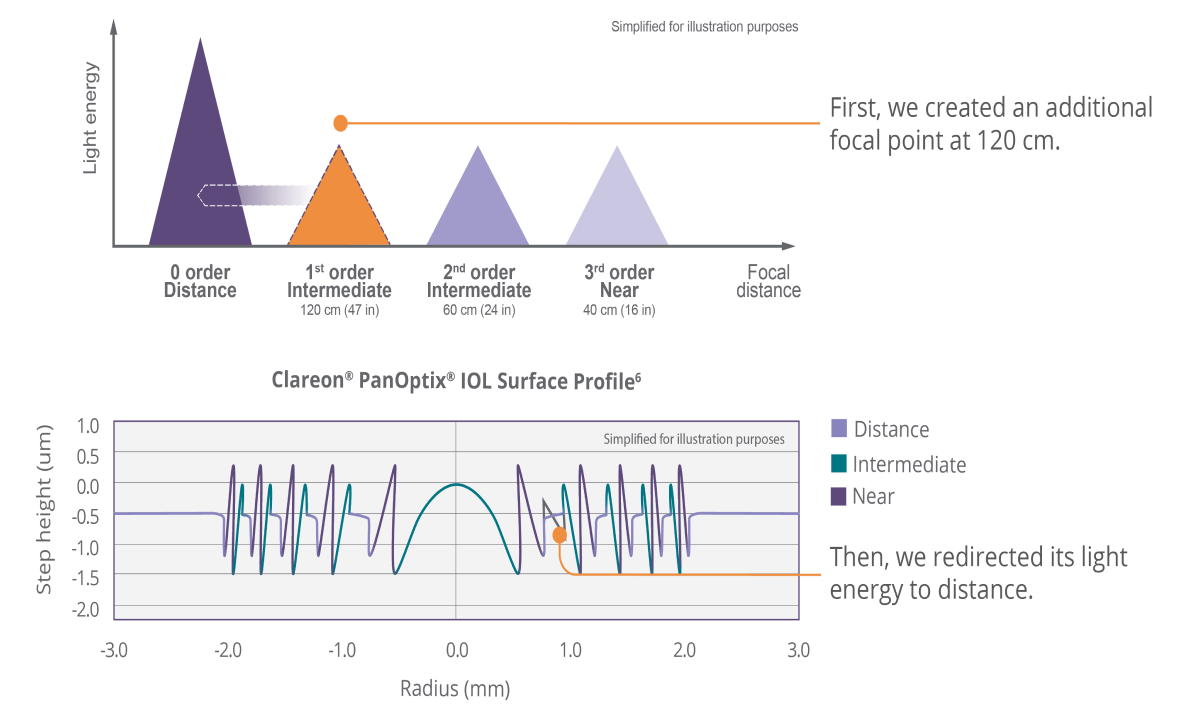 See the difference CLAREON® PanOptix®  provides your patients
The PanOptix® IOL is equipped with advanced ENLIGHTEN™ Optical Technology — a proprietary design that optimizes intermediate without compromising exceptional near and distance vision.3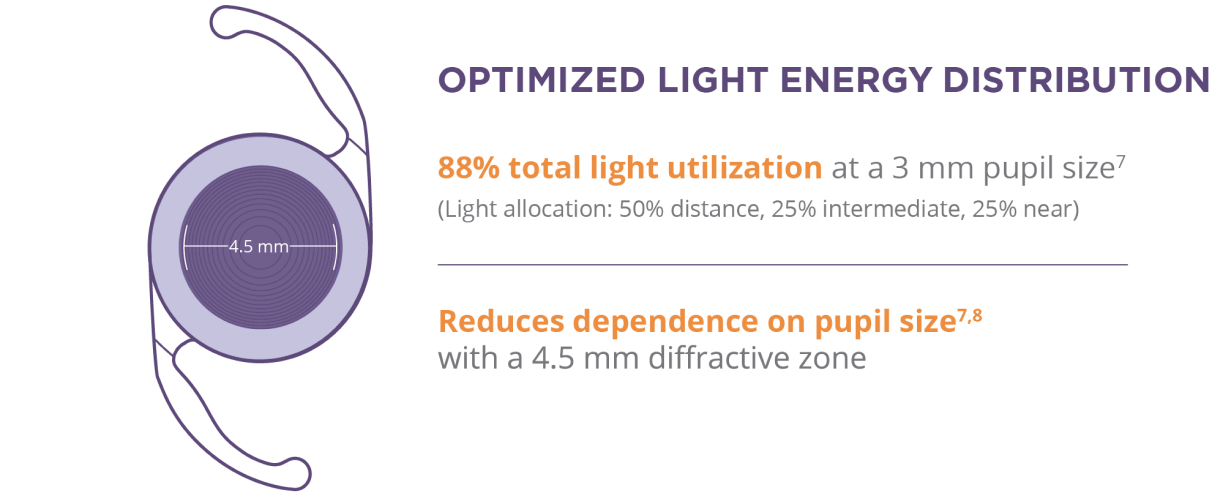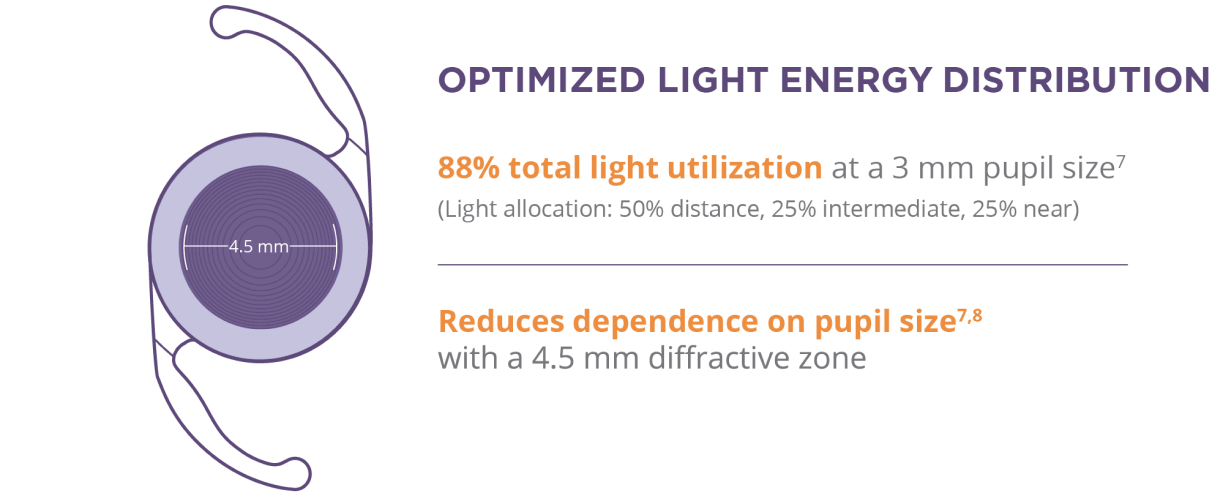 UNDENIABLE PATIENT SATISFACTION.3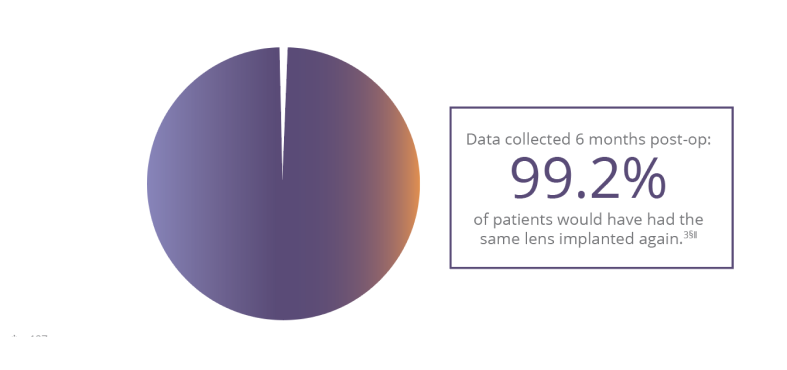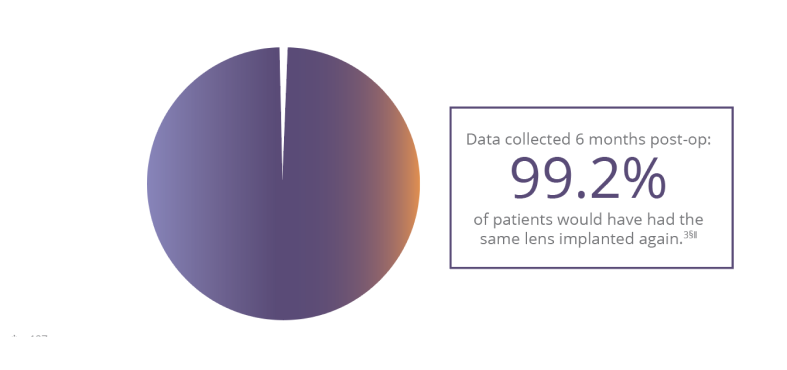 * Based on in vitro examinations of glistenings, surface haze and SSNGs.
† Based on mean value of binocular defocus curve at near, intermediate, and distance at 6 months (n=127).
‡ Snellen VA was converted from logMAR VA. A Snellen notation of 20/20-2 or better indicates a logMAR VA of 0.04 or better, which means 3 or more of the5 Early Treatment Diabetic Retinopathy Study chart letters in the line were identified correctly.
§ n=127.
‖ Response to the following question on IOLSAT questionnaire (Version 1.0, December 20, 2018) at 6 months post-op: "Given your vision today, if you had to do it all over, would you have the same lenses implanted again?"
IMPORTANT PRODUCT INFORMATION: CLAREON® PANOPTIX® FAMILY OF TRIFLOCAL HYDROPHOBIC IOLS
CAUTION: Federal (USA) law restricts this device to the sale by or on the order of a physician.
INDICATIONS: The Clareon® PanOptix® Family of Trifocal Hydrophobic IOLs include Clareon® PanOptix® and Clareon® Panoptix® Toric and are indicated for primary implantation in the capsular bag in the posterior chamber of the eye for the visual correction of aphakia in adult patients, with less than 1 diopter of pre-existing corneal astigmatism, in whom a cataractous lens has been removed. The lens mitigates the effects of presbyopia by providing improved intermediate and near visual acuity, while maintaining comparable distance visual acuity with a reduced need for eyeglasses, compared to a monofocal IOL. In addition, the Clareon® PanOptix® Toric Trifocal IOL is indicated for the reduction of residual refractive astigmatism.
WARNINGS/PRECAUTIONS: Careful preoperative evaluation and sound clinical judgment should be used by the surgeon to decide the risk/benefit ratio before implanting a lens in a patient with any of the conditions described in the Directions for Use labeling. Physicians should target emmetropia, and ensure that IOL centration is achieved. For the Clareon® PanOptix® Toric Trifocal IOLs, the lens should not be implanted if the posterior capsule is ruptured, if the zonules are damaged, or if a primary posterior capsulotomy is planned. Rotation can reduce astigmatic correction; if necessary lens repositioning should occur as early as possible prior to lens encapsulation. Some visual effects may be expected due to the superposition of focused and unfocused multiple images. These may include some perceptions of halos, radial lines around point sources of light (starbursts) under nighttime conditions, or glare, as well as other visual symptoms. As with other multifocal IOLs, there is a possibility that visual symptoms may be significant enough that the patient will request explant of the multifocal IOL. A reduction in contrast sensitivity as compared to that expected with a monofocal IOL may be experienced by some patients and may be more prevalent in low lighting conditions. Therefore, patients implanted with multifocal IOLs should exercise caution when driving at night or in poor visibility conditions. Patients should be advised that unexpected outcomes could lead to continued spectacle dependence or the need for secondary surgical intervention (e.g., intraocular lens replacement or repositioning). As with other multifocal IOLs, patients may need glasses when reading small print or looking at small objects. Posterior capsule opacification (PCO), may significantly affect the vision of patients with multifocal IOLs sooner in its progression than patients with monofocal IOLs. Prior to surgery, physicians should provide prospective patients with a copy of the Patient Information Brochure available from Alcon informing them of possible risks and benefits associated with the IOLs.
ATTENTION: Reference the Directions for Use labeling for each IOL for a complete listing of indications, warnings and precautions.

REFERENCES:
1. Alcon Data on File, 2021.
2. Lehmann, R., Maxwell, A., Lubeck, DM, Fong, R., Walters, TR, Fakadej, A. Effectiveness and Safety of the Clareon Monofocal Intraocular Lens: Outcomesfrom a 12-Month Single-Arm Clinical Study in a Large Sample. Clin Ophthalmol. 2021;15:1647-1657. Published 2021 Apr 20.
3. Clareon® PanOptix® Trifocal Hydrophobic Acrylic IOL Model CNWTT0 2021.
4. Kohnen, T. et al - Visual Performance of a Quadrifocal (Trifocal) Intraocular Lens Following Removal of the Crystalline Lens. American
5. Carson, D., BS et al. - Optical bench performance of 3 trifocal Intraocular lenses. J Cataract Refract Surg 2016; 42:1361–1367 Q 2016 ASCRS and ESCRS.
6. Alcon Data on File, 2014.
7. Alcon Data on File, 2016.
8. Alcon Data on File, 2014.
© 2022 Alcon Inc. 03/22 US-CPO-2200011