Faster.1-5 Easier.5,6* Better.1,2,7,8
The ARGOS® Biometer with Image Guidance by Alcon is the smarter planning solution that keeps efficiency and accuracy flowing through your clinic.
* Compared to VERION® Reference Unit.
Your Solution For Smarter Planning
The Faster Solution1-5
Measurement capture speed <1.0 sec9‡  
1.5x faster scanning speed than IOLMaster* 7001†
* Trademarks are the property of their respective owners. 
† At 3000 A-Lines/sec as compared to 2000 A-Line/sec for IOLMaster* 700
‡ With capture times as low as 0.6 seconds.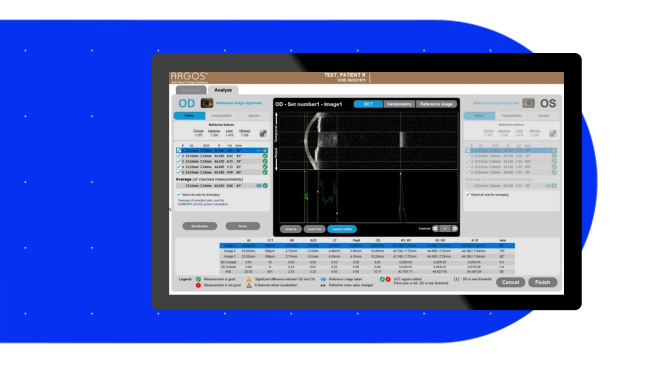 The Easier Solution5,6*
Angle-to-angle, cornea-to-retina OCT imaging provides real-time guidance for capturing accurate measurements
Integrated Alcon Vision Planner with automated and convenient planning software offers sophisticated astigmatic management tools, including an LRI nomogram
One-touch software and remote planning options 
* Compared to VERION® Reference Unit.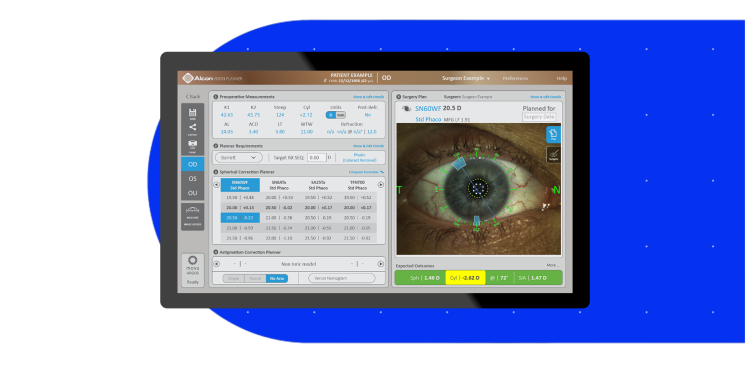 The Better Solution1,2,7,8
Advanced SS-OCT technology provided higher acquisition rates than other market-leading biometers1
Outperformed IOLMaster* 700 by 41% in grade 4+ cataracts1
OCT-enhanced keratometry shown to rival Lenstar*1
Uses segmented axial length, improving refractive prediction error, which may lead to better IOL selection7,10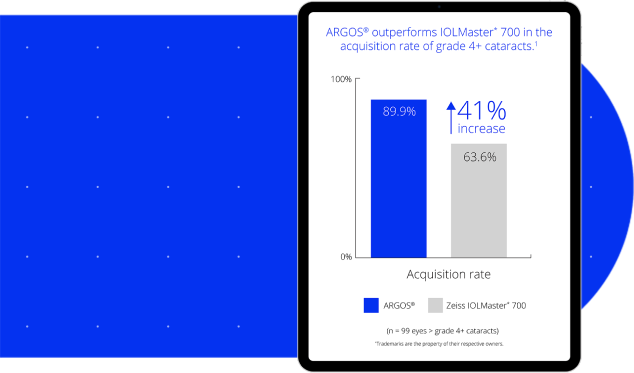 Image Guided Precision Powered By Alcon
Experience complete integration for intelligent planning and empowered execution with enhanced precision at every step.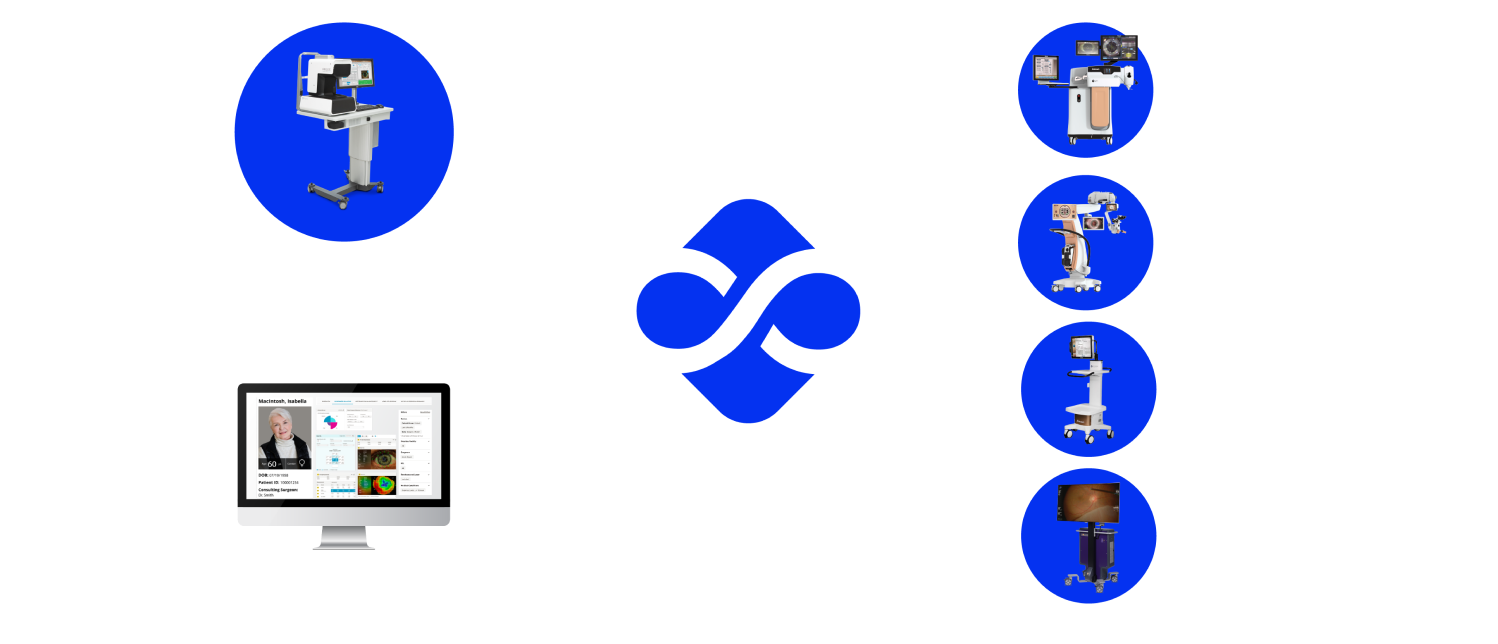 Enhance your LenSx® Laser experience with seamless Image Guided incision planning, execution and capsulorhexis positioning.11*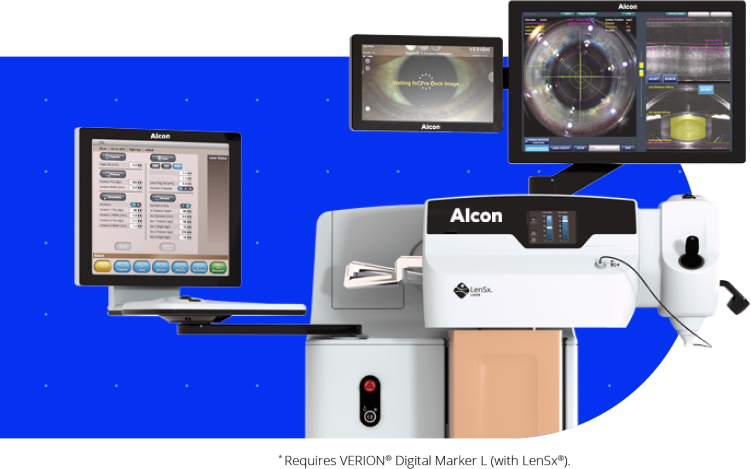 Image Guided Execution 
Reduces the risk of transcription errors11
Provides intra-operative guidance with digital overlays throughout LenSx® procedures based on Vision Planner data11
Provides image registration and real time eye tracking to compensate for cyclotorsion. Precisely execute11:
Rhexis placement and centration
Primary, secondary and arcuate incision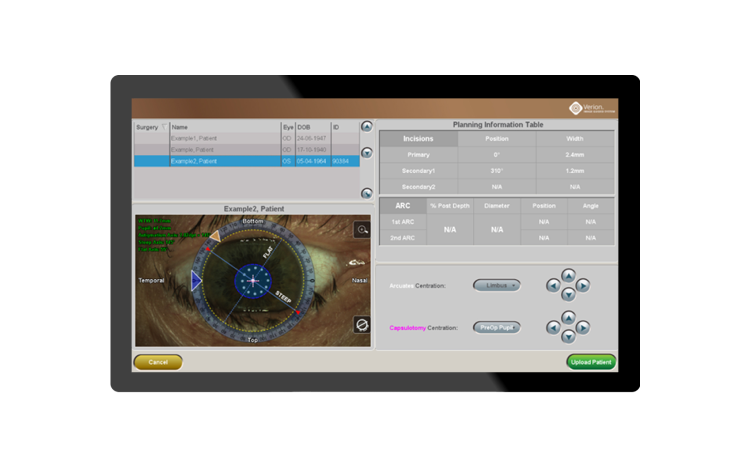 With VERION® Digital Marker LenSx® (DML) integration, surgeons will be able to:
Plan arcuate incision using the nomogram integrated into the Vision Planner or personal nomograms added to the planner software12
Import surgical plans from the Vision Planner via USB, LAN (Local Area Network) or SMARTCataract to reduce the risk of transcription errors11
Ensure precision of arcuate location with image-guided registration to the pre-op image11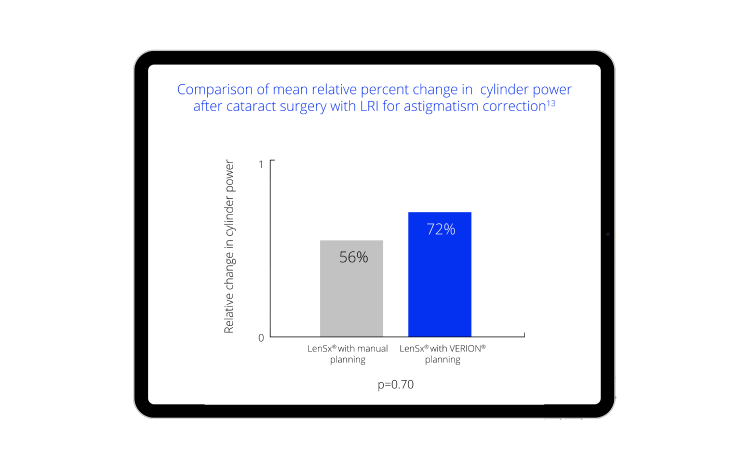 Integration with the Digital Marker Microscope (DMM) helps you execute your patient's surgical plan with digital accuracy.14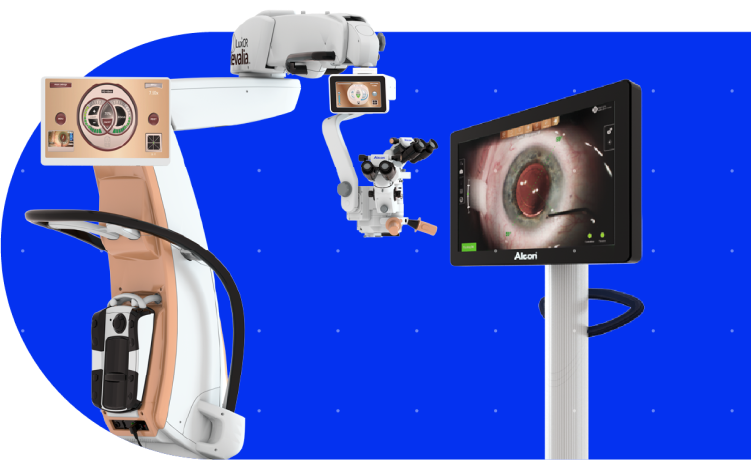 Image Guided Integration from the clinic to the OR designed to increase precision and enhance data integrity.
The Vision Planner sends the surgical plan to the DMM, eliminating transcription errors and allowing surgeons to precisely execute their plan with image-guided precision.
At the end of the case, the DMM sends surgical data back to the Vision Planner14:
Surgery date
Procedure type
Incision width
Final IOL implanted
An image of the final IOL position at the end of the case can be captured and stored for future reference.12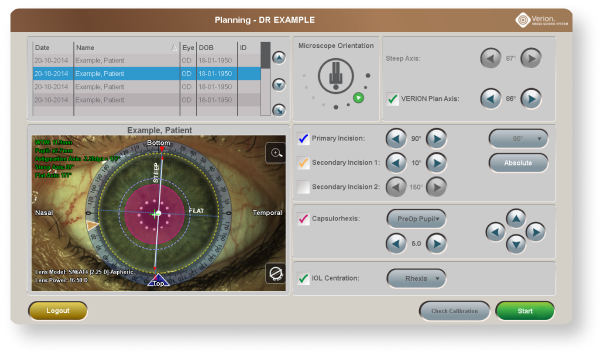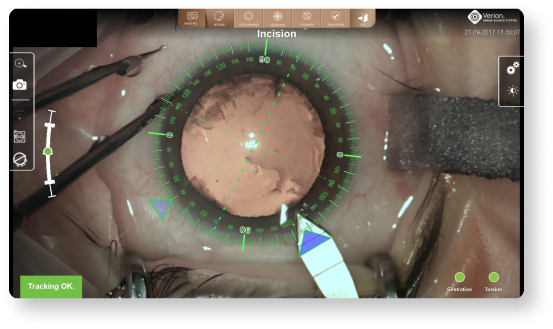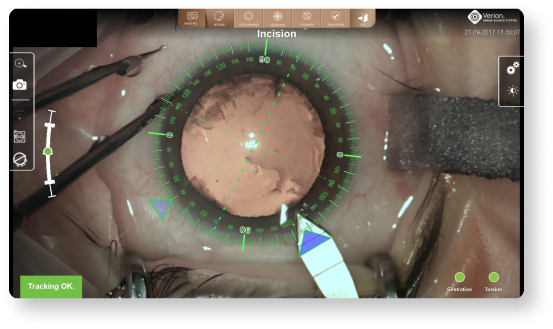 Dynamic overlays can help to precisely execute incisions14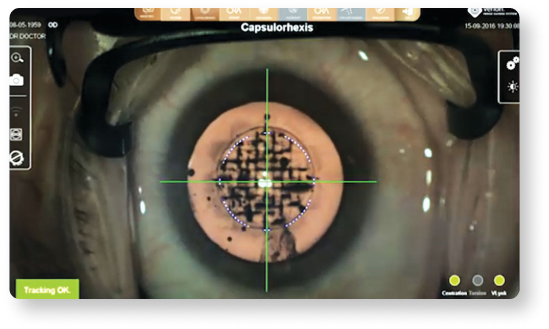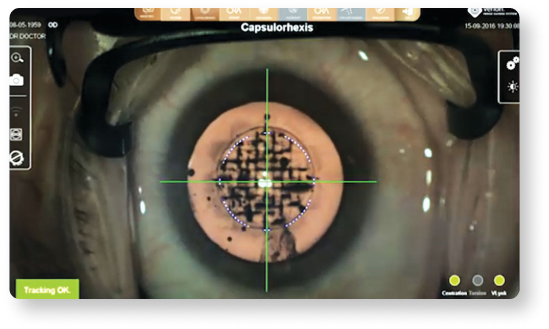 Image-guided integration can help to achieve greater capsulorhexis accuracy15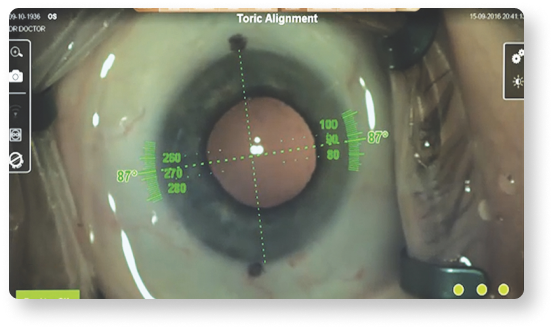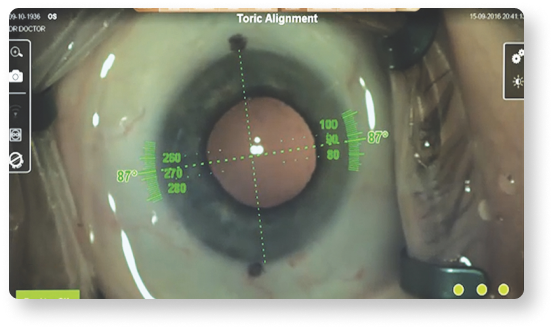 Precisely align toric IOLs according to your planned implantation axis, mapped to your patient's unique limbal and iris landmarks14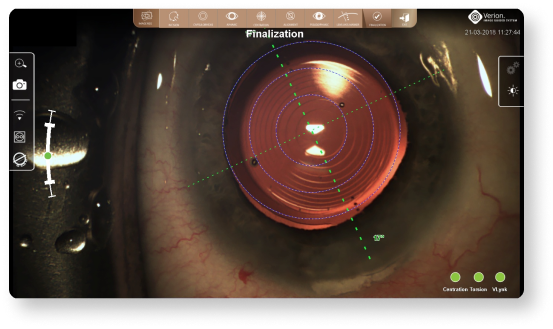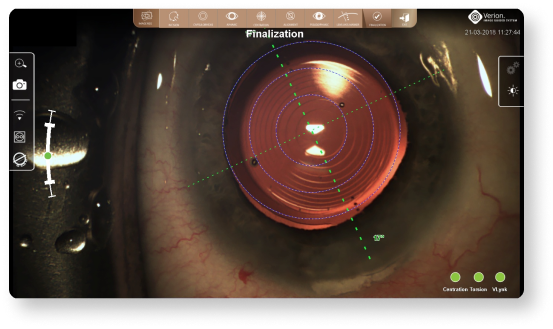 An image of the final IOL position is captured and stored for future reference12
Seamlessly integrate the surgical planning process
SMARTCataract seamlessly connects data systems, diagnostic devices and surgical equipment from the clinic to the OR. SMARTCataract automatically evaluates patient data and takes surgeon preferences, preferred formulas and lens types to efficiently guide the surgical planning stage.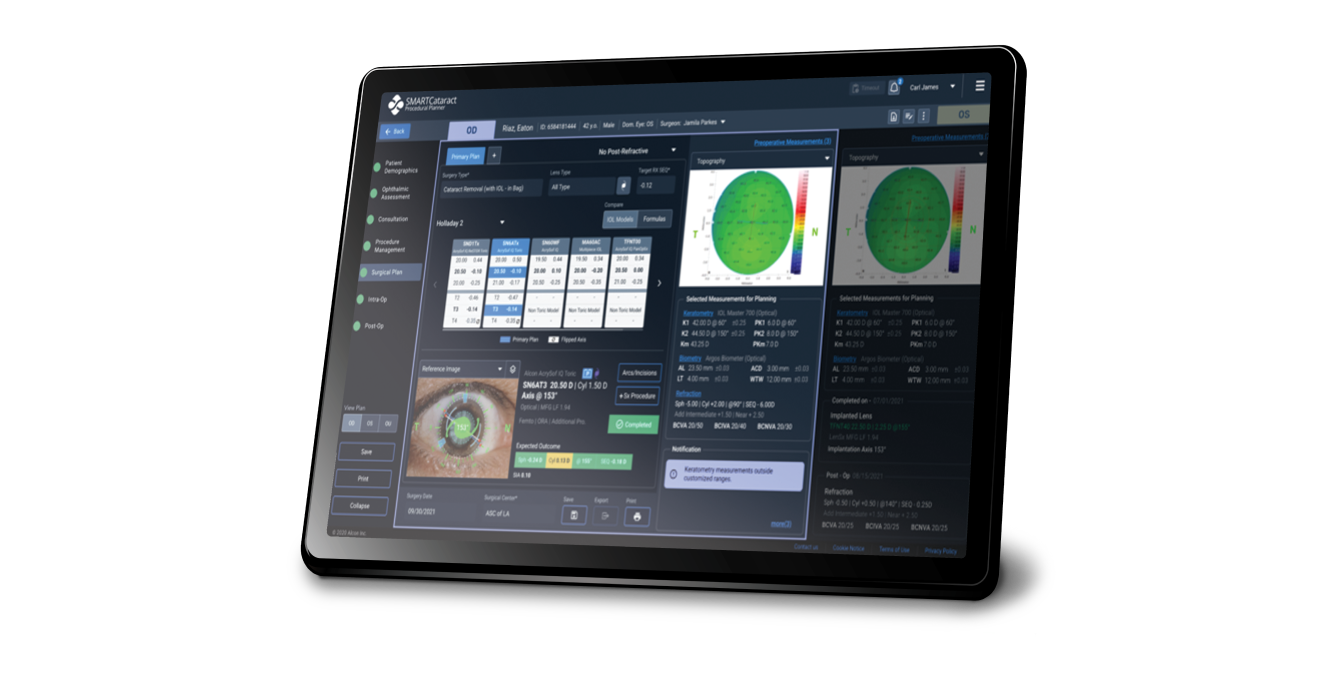 Disclaimer: (1) These images are for illustrative purposes only and may not reflect the current product and (2) The patient information is hypothetical and not based on real patient data
Alcon Experience Academy
For relevant training content from industry thought leaders
ARGOS® Optical Biometer Important Product Information
Caution: Federal (USA) law restricts this device to the sale by or on the order of a physician. 
Indications: ARGOS® is a non-invasive, non-contact biometer based on swept-source optical coherence tomography (SS-OCT). The device is intended to acquire ocular measurements as well as perform calculations to determine the appropriate intraocular lens (IOL) power and type for implantation during intraocular lens placement. 
Intended Use: The Reference Image functionality is intended for use as a preoperative and postoperative image capture tool. It is intended for use by ophthalmologists, physicians, and other eye-care professionals and may only be used under the supervision of a physician.
Warnings and Precautions:
Only properly trained personnel with experience may operate the device and control software and interpret the results.

Factors that influence the measurement of patient's eyes are listed in the User Manual (Table 1): pseudophakic eye, wearing contact lenses, fixation problem, cornea opacity, non-intact cornea, refractive surgery, blood in the vitreous humor, retinal detachment, keratoconus, asteroid hyalosis, ambient light in the room, and deformation of the corneal shape. Please consider the guidance provided in Table 1 when you encounter these factors.

Optical Radiation - This device is equipped with a Class 1 laser light source.
ATTENTION: Refer to the ARGOS® User Manual for a complete description of proper use and maintenance, optical and technical specifications, as well as a complete list of warnings and precautions. 
LenSx® Laser Important Product Information
CAUTION: Federal Law restricts this device to sale and use by or on the order of a physician or licensed eye care practitioner. 
 
INDICATIONS: 
Cataract Surgery Indication: In the creation of corneal cuts/incisions (single-plane, multi-plane and arcuate) anterior capsulotomy and laser phacofragmentation during cataract surgery in adult patients. Each of these procedures may be performed either individually or consecutively during the same surgery. 
  
CONTRAINDICATIONS 
Cataract Surgery Contraindications 
•    Corneal disease that precludes applanation of the cornea or transmission of laser light at 1030 nm wavelength 
•    Descemetocele with impending corneal rupture 
•    Presence of blood or other material in the anterior chamber 
•    Poorly dilating pupil, such that the iris is not peripheral to the intended diameter for the capsulotomy 
•    Conditions which would cause inadequate clearance between the intended capsulotomy depth and the endothelium (applicable to capsulotomy only) 
•    Previous corneal incisions that might provide a potential space into which the gas produced by the procedure can escape 
•    Corneal thickness requirements that are beyond the range of the system 
•    Corneal opacity that would interfere with the laser beam 
•    Hypotony, glaucoma* or the presence of a corneal implant 
•    Residual, recurrent, active ocular or eyelid disease, including any corneal abnormality (for example, recurrent corneal erosion, severe basement membrane disease) 
•    History of lens or zonular instability 
•    Any contraindication to cataract or keratoplasty 
•    This device is not intended for use in pediatric surgery. 
 
* Glaucoma is not a contraindication when these procedures are performed using the LenSx® Laser SoftFit® Patient Interface Accessory 
 
WARNINGS 
The LenSx® Laser System should only be operated by a physician trained in its use. 
The LenSx® Laser delivery system employs one sterile disposable Patient Interface consisting of an applanation lens and suction ring. The Patient Interface is intended for single use only. Use of disposables other than those manufactured by Alcon may affect system performance and create potential hazards. 
PRECAUTIONS: Do not use cell phones or pagers of any kind in the same room as the LenSx® Laser. Discard used Patient Interfaces as medical waste. 
  
ATTENTION: Refer to the LenSx® Laser Operator's Manual for a complete listing of indications, warnings and precautions.
References
Tamaoki A, Kojima T, Hasegawa A, et al. Clinical evaluation of a new swept-source optical coherence biometer that uses individual refractive indices to measure axial length in cataract patients. Ophthalmic Res. 2019;19:1-13.
Shammas HJ, Ortiz S, Shammas MC, Kim SH, Chong C. Biometry measurements using a new large-coherence-length swept-source optical coherence tomographer. J Cataract Refract Surg. 2016;42:50-61.
Hussaindeen JR, Mariam EG, Arunachalam S, et al. Comparison of axial length using a new swept-source optical coherence tomography-based biometer. PLOS ONE. December 2018. 
ZEISS† IOLMaster† 700 510k Submission 2015.
ARGOS® Biometer User Manual 2019. 
VERION® Reference Unit User Manual, Part I. 2019.
Whang W, Yoo Y, Kang M, Joo C. Predictive accuracy of partial coherence interferometry and swept-source optical coherence tomography for intraocular lens power calculation. Sci Rep. 2018;8(1):13732. 
Shammas HJ. Accuracy of IOL power formulas with true axial length versus simulated axial length measurement in 318 eyes using an OCT biometer. 2019 ASCRS ASOA Annual Meeting. May 2019. 
Alcon Data on File.
Wang L, Cao D, Weikert MP, Koch DD. Calculation of axial length using a single group refractive index versus using different refractive indices for each ocular segment. Ophthalmology. 2019:1-8.
VERION® Digital Marker L User Manual. 2017.  
VERION® Reference Unit User Manual Part II. 2017.  
Chen M, Seagrave Z, Patrianakos T, et al. A Pilot Study To Compare Using VERION®  Imaging Guided System (Alcon) To Manual Marking In Assisting LRI (Limbal Relaxation Incision) To Reduce Cylinder Power In Cataract Surgery. International Journal of Open Access Ophthalmology. 2016;1(1):1-4.   
VERION® Digital Marker M User Manual. 2018.  
Haeussler-Sinangin Y, Dahlhoff D, Schultz T, Dick HB. Clinical performance in continuous curvilinear capsulorhexis creation supported by a digital image guidance system. J Cataract Refract Surg. 2017;43:348-352.  
©2022 Alcon Inc. US-ARB-2200103