MyAlcon | Country
This page is available in English. Select below for other countries.
COMING SOON
Americas
     Brazil
     Mexico
     Colombia
     Chile
     Argentina
     Ecuador
     Peru
     Uruguay
 
Europe / Middle East / Africa
     Spain
     Italy
     France
Asia Pacific
     South Korea
     China
     Hong Kong
     Singapore
Dry Eye Products for Real Relief
Do your eyes feel dry and irritated? Dry eye—where the tear glands stop making enough tears, produce poor-quality tears, or the tears evaporate too quickly—could be the cause. We offer a range of formulas that provide real, long-lasting relief for all types of dry eye, so your eyes won't hold you back.
SYSTANE® DRY EYE DROPS
If you suffer from dry eye symptoms, Systane® lubricant eye drops and gels have you covered. From preservative-free to severe and night time relief—each formula is designed to keep your eyes lubricated and comfortable, providing lasting relief when you need it most.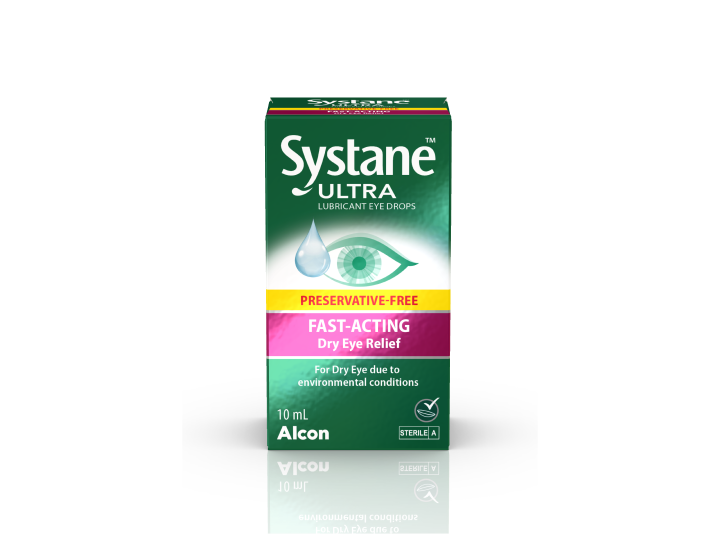 Frequently asked questions
Common dry eye symptoms include dry, itchy, burning, gritty, tired and watery eyes. If you are concerned with any of these symptoms, please consult your optician, doctor or pharmacist.
We suggest to wait 5 minutes between using multiple eye drops. Always check the product instructions before use. If you are unsure with how to use eye drops, please consult your optician, doctor or pharmacist.
Systane® lubricant eye drops can be used as needed throughout the day. Instill 1 or 2 drops into the affected eye(s) as needed and blink
Systane® COMPLETE is an all-in-one eye drop to relieve the symptoms of multiple types of dry eye.

Systane® COMPLETE features nano-droplet technology to prevent tear evaporation and delivers optimal dry eye relief.

Systane® COMPLETE addresses all layers of the tear film and can help relieve the symptoms of all types of dry eye including aqueous deficient, evaporative/lipid deficient, or mixed dry eyes for 8 hours.⁷
Systane® ULTRA 10mL and Systane​​​​​​​® HYDRATION are suitable to be used with soft contact lenses.
Other Systane​​​​​​​® products can be used before and after contact lens wear.
References:
Systane® COMPLETE PIL
Alcon data on file 2020.
Alcon data on file 2021
Cohen S, Martin A, Sall K. Evaluation of clinical outcomes in patients with dry eye disease using lubricant eye drops containing polyethylene glycol or carboxymethycellulose. Clin Ophthalmol. 2014;8:157-167.
Alcon data on file 2021 7. Alcon data on file 2020.
Consult your eye care professional for use, care, precautions, warnings, contraindications and adverse effects.
Alcon, Systane® COMPLETE PRESERVATIVE-FREE, Systane® COMPLETE, Systane® ULTRA PRESERVATIVE-FREE, Systane® ULTRA, Systane® HYDRATION PRESERVATIVE-FREE, Systane® HYDRATION, Systane® Balance, Systane® Gel Drops, Systane® and Alcon logos are trademarks of Alcon Inc
©2022 Alcon Inc. IE-SYC-2200001