Dry Eye Products for Real Relief
Do your eyes feel dry and irritated? Dry eye—where the tear glands stop making enough tears, produce poor-quality tears, or the tears evaporate too quickly—could be the cause. We offer a range of formulas that provide real, long-lasting relief for all types of dry eye, so your eyes won't hold you back.
Systane® Dry Eye Drops
If you suffer from dry eye symptoms, Systane® lubricant eye drops and gels have you covered. From preservative-free to severe and night time relief—each formula is designed to keep your eyes lubricated and comfortable, providing lasting relief when you need it most.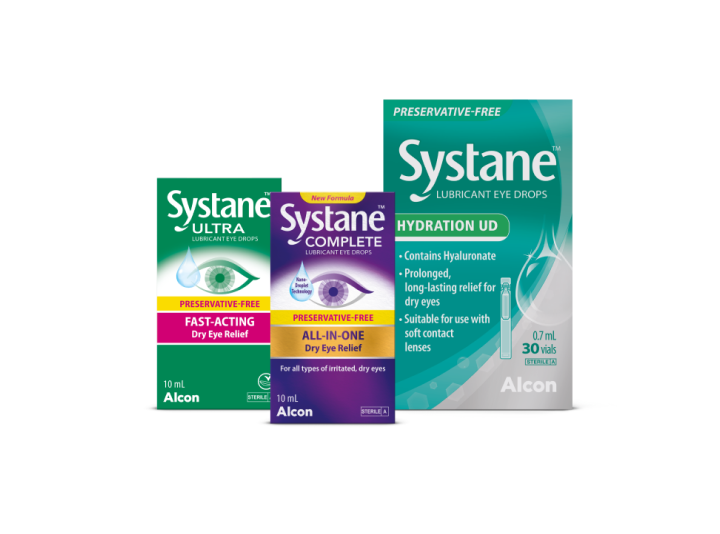 Common dry eye symptoms include dry, itchy, burning, gritty, tired and watery eyes. If you are concerned with any of these symptoms, please consult your optometrist or health care practitioner.
We suggest to wait 5 minutes between using multiple eye drops.
Systane® lubricant eye drops can be used as needed throughout the day. We recommend 1 to 2 drops in the affected eyes and then blink
Systane® COMPLETE is an all-in-one eye drop to relieve the symptoms of multiple types of dry eye.
Systane® COMPLETE features nano-droplet technology to prevent tear evaporation and delivers optimal dry eye relief and fast hydration1,2.
Systane® COMPLETE addresses all layers of the tear film and can help relieve the symptoms of all types of dry eye including aqueous deficient, evaporative/lipid deficient, or mixed dry eyes for 8 hours3,4*.
Systane® ULTRA 10mL and Systane® HYDRATION are suitable to be used with soft contact lenses.
Other Systane® products can be used before and after contact lens wear.
References:
Alcon DOF Nanoemulsion for MGD [DMGD001] 2013, available on request.

Ketelson H, Rangarajan R; Pre-clinical evaluation of a novel phospholipid nanoemulsion based lubricant eye drops. Poster presented at ARVO 2017, sponsored by Nopvartis.

Gokul A. Tear lipid supplement prophylaxis against dry eye in adverse environment 2018.

Gokul, A. et al. Cont Lens Anterior Eye 2018; 41: 97-100

Davitt WF, Bloomenstein M, Christensen M, Martin AE. Efficacy in patients with dry eye after treatment with a new lubricant eye drop formulation. J Ocul Pharmacol Ther. 2010;26(4):347-353. .

Rangarajan R, Kraybill B, Ogundele A, Ketelson H. Effects of a hyaluronic acid/hydroxypropyl guar artificial tear solution on protection, recovery, and lubricity in models of corneal epithelium. J Ocul Pharmacol Ther. 2015;31(8):491-497.

Rolando M, Autori S, Badino F, Barabino S. Protecting the ocular surface and improving the quality of life of dry eye patients: a study of the efficacy of an HP-guar containing ocular lubricant in a population of dry eye patients. J Ocul Pharmacol Ther. 2009;25(3):271-278.

Benelli U. Systane lubricant eye drops in the management of ocular dryness. Clin Ophthalmol. 2011:5;783-790

Christensen M, Martin A, Meadows D. An evaluation of the efficacy and patient acceptance of a new lubricant eye gel. The American Academy of Optometry Annual Meeting; 2011; E-Abstract 115013.

TEARS NATURALE® II Ophthalmic Solution. Approved package insert. Alcon Laboratories (SA) (Pty) Ltd. 6 August 2018.

Redkar M, Srividya B, Ushasree P, Amin PD. Dextran - HPMC Eye Drops As Artificial Tears. J Sci Ind Res. 2000;59:1027-1031.
©2022 Alcon Laboratories Pty Ltd. AUS: 1800 224 153; Auckland NZ: 0800 101 106. ANZ-DT1-2100097
ALWAYS READ THE LABEL AND FOLLOW THE DIRECTIONS FOR USE
All content on this website is for informational purposes only, always talk to your health professional regarding your eye health or medical conditions.