MyAlcon | Country
This page is available in English. Select below for other countries.
COMING SOON
Americas
     Brazil
     Mexico
     Colombia
     Chile
     Argentina
     Ecuador
     Peru
     Uruguay
 
Europe / Middle East / Africa
     Spain
     Italy
     France
Asia Pacific
     South Korea
     China
     Hong Kong
     Singapore
Manage your surgical procedures with stable and enhanced visualisation while improving efficiency and control at every surgical step. 

Enhanced Visualisation with a Larger Red Reflex1*

Revalia™ offers enhanced visualization to optimise your surgical experience with a red reflex that is more stable, intense and 6x larger than standard analog microscopes.1,2*
Proprietary ILLUMIN-i Technology allows you to maintain a consistent view of your working space even with patient movement and incomplete iris dilation.3
* Compared to ZEISS Lumera T, Lumera 700, and LEICA M-820 microscopes (clinically proven). 
Learn more about the key features of Revalia™ and see how it works to bring enhanced stability, efficiency and control to your surgeries. 
Large Red Reflex with Revalia™

Enhanced Efficiency and Greater Depth of Focus1-6
Revalia™ amplifies your visualization for total surgical control and reduces the need for microscope adjustments, allowing you to see more during surgery.1-6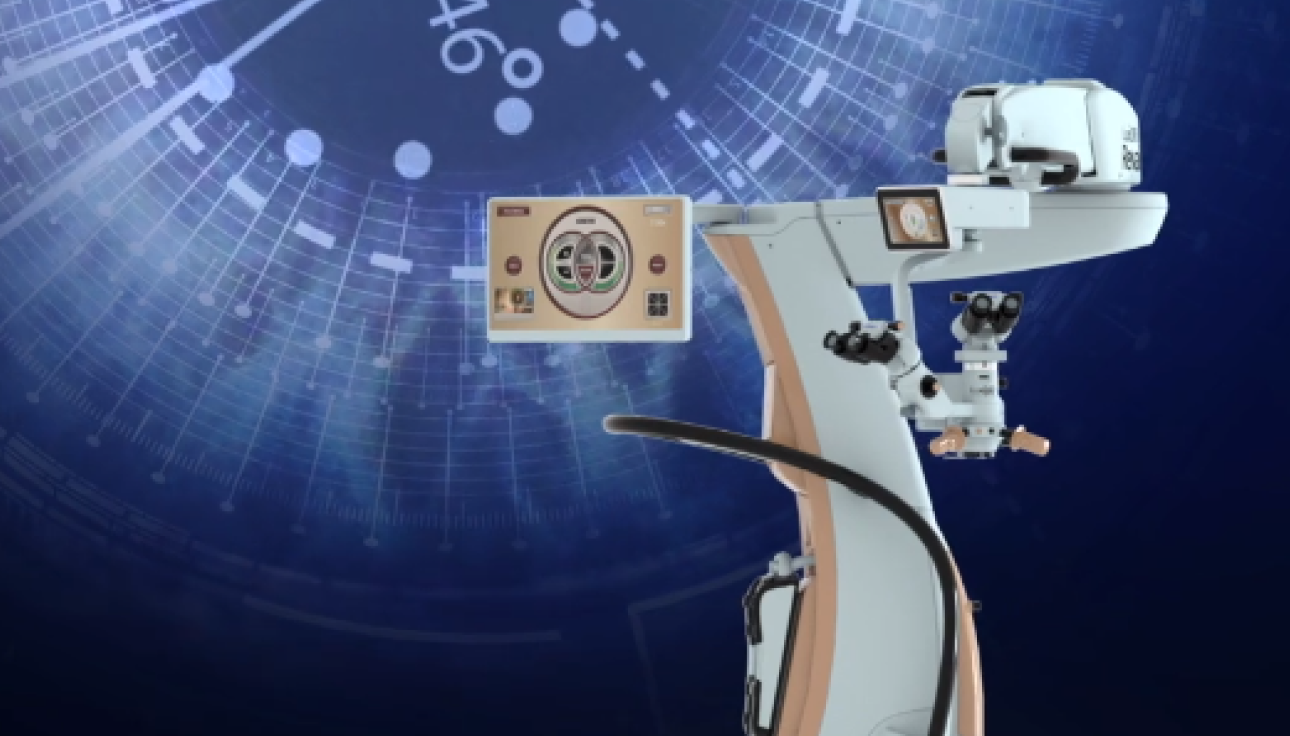 ILLUMIN-i Technology allows you to view the surgical field with
greater depth of focus6
Largest Depth of Focus6*
Reduces need to refocus during surgery
Emphasises textures, bringing out structures, patterns and details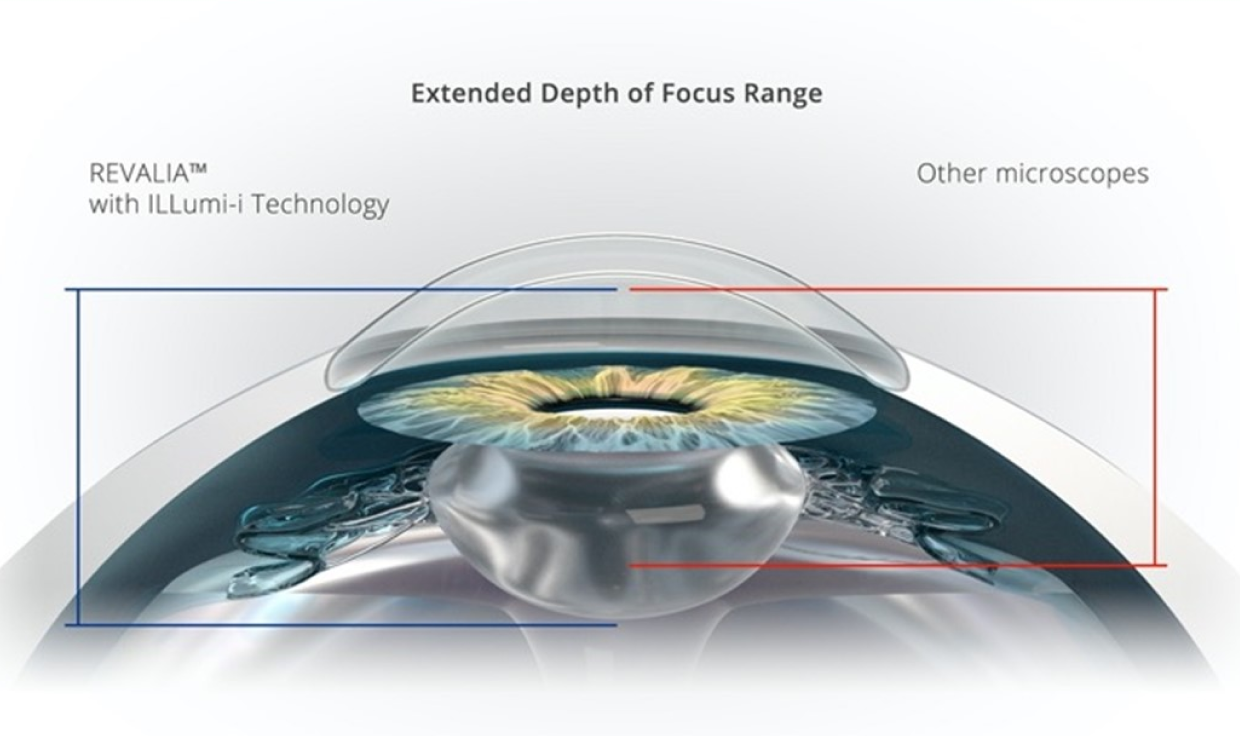 See How Revalia™ Can Offer an Extended Depth Of Focus
Depth of focus: The range to which an object appears in focus. This can be on either side of the focal point.
*Revalia™ has the largest depth of focus compared to ZEISS Lumera T, Lumera 700, and LEICA M-820 microscopes (clinically proven).
Revalia™ provides a personalised
LED illumination system
Customise Your Surgical View
Revalia™ gives you the flexibility to choose the most appropriate light source for each surgical case. LED illumination allows high intensity for complete views throughout the procedure, with a reliable, uniform and longer lifetime than halogen illumination.3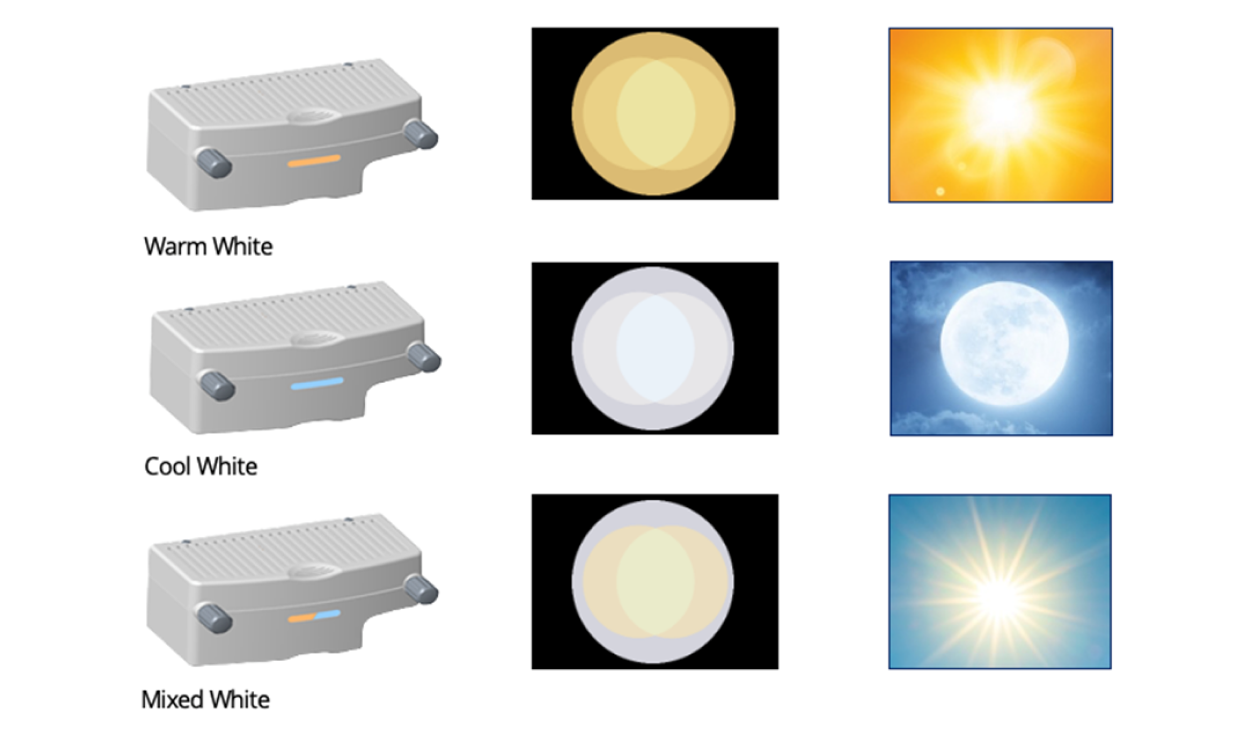 Blend Coaxial and Oblique Light Sources to Optimise Light Intensity
With independently adjustable coaxial and oblique light sources, Revalia™ offers the right mix of light intensity for every surgical step.3 
Seamless Integration
with Alcon Technologies
Revalia™ is fully integrated with Alcon's Cataract Refractive Suite7-11:
OCULUS BIOM
VERION™ Image-Guided System
ORA SYSTEM® Intraoperative Aberrometer
CONSTELLATION® Vision System
CENTURION® Vision System
NGENUITY® 3D Visualization System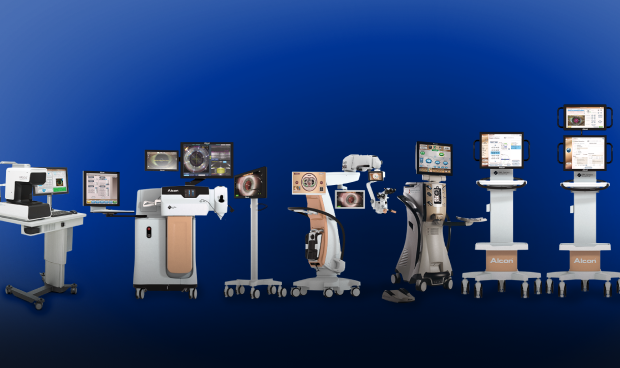 Designed to Maximise Stability and Clarity in Vitreoretinal Procedures
Revalia™ AMP technology allows for optimal retroillumination of the posterior segment for maximum clarity.3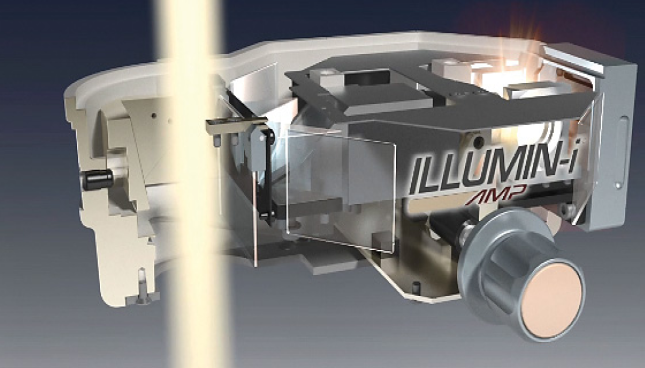 Instructions for Use (IFU)
For a full list of indications, contraindications and warnings, please visit ifu.alcon.com and refer to the relevant product's instructions for use.
Alcon Experience Academy
For relevant training content from industry thought leaders
1. Cionni RJ., et al Evaluating red reflex and surgeon preference between nearly-collimated and focused beam microscope illumination systems. Tran Vis Sci Tech. 2015;4(4):7.
2. Alcon data on file, 2014. 
3. LuxOR Revalia™ (LX3 LED) Ophthalmic Microscope Operator's Manual.
4.  Lubeck DM. "Red reflex stability improves illumination." Ocular Surgery News, US edition. November 25, 2013. Available from: Healio.com/Ophthalmology/
5. Brogan K, et al. Intraoperative head drift and eye movement: two under addressed challenges during cataract surgery. Eye. 2018;32:1111–1116.
6. Schwiegerling J & Dimalanta R. Depth of focus measurements of ophthalmic surgical microscopes. Poster presented at: The Association for Research in Vision and Ophthalmology; May 1-5, 2016; Seattle, WA.
7. CONSTELLATION® Vision System Operator's Manual.
8. CENTURION® Vision System Operator's Manual.
9. NGENUITY® 3D Visualization System Operator's Manual.
10. ORA SYSTEM® Operator's Manual.
11. VERION™ Digital Marker M Operator's Manual.

For indications, contraindications and warnings please refer to the relevant product's instruction for use​.
©2022 Alcon Inc. 07/22 UKIE-LSX-2200002